September 21, 2019 @ 10:00 am - 4:00 pm
Saturday, September 21st
​(rain date Saturday, September 28th)

10 am to 4 pm @ the  Battlefield
Activities for school-age children and families will highlight colonial life and the American Revolutionary War!
The New Jersey Greys will demonstrate camp life with kids participating in marching and drilling.  Demonstrations of musket and cannon firing.
Meet and talk to George Washington, Ben Franklin, and Betsy Ross.
Learn about 18th-century medicine and archaeology.
Ask your questions about the Battle and the Revolution.
Tour the Thomas Clarke House.
Learn about New Jersey as the Crossroads of the American Revolution by visiting information tables set up by area historic sites.
Bring a picnic basket and camera and enjoy the Battlefield's landscape.
Advance Registration donations of $10 per family by September 17 (registration per family on the day of the event will be $15).  Registered kids will receive a welcome packet of gifts.  (We cannot guarantee a welcome packet if not registered by September 17.)  A printed schedule of activities will be available at Young Patriot's Day and, when finalized, on our website.
Click here to register for Young Patriots' Day >
---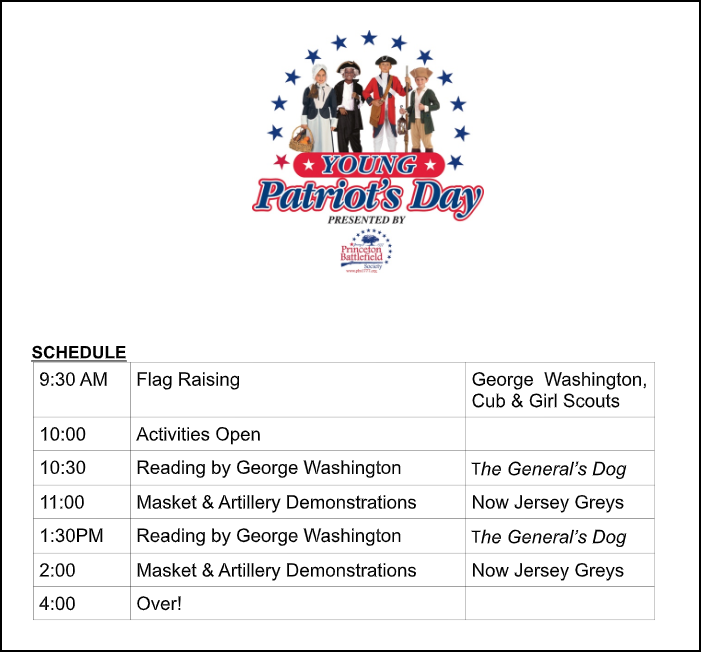 download the schedule
Young Patriot's Day is an educational program planned by the Princeton Battlefield Society.  Sponsors include (as of August 1) NJM Insurance Group and BlackRock Gives.  Proceeds from Young Patriots' Day will be used to further the mission of the Princeton Battlefield Society which includes educational activities and interpretive materials and signage.